South Carolina Department of Archives and History
National Register Properties in South Carolina

Nation Ford Fish Weir, York County (Rock Hill vicinity)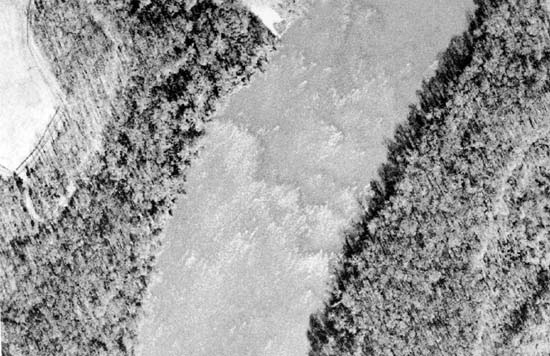 Aerial View
The Nation Ford Fish Weir has significance as physical evidence of Native Americans during the period prior to European settlement in South Carolina. One of the few relatively intact fish weirs remaining in South Carolina, the Nation Ford Fish Weir provides valuable evidence of the fishing practices of Native Americans. Because these weirs were of necessity located at shoals areas, many have been destroyed in the development of dams for hydroelectric production, bridges, and other development practices. The condition and location of the weir make it a significant resource in understanding Native American culture. The Nation Ford Fish Weir is a double "V"-shaped fish trap or weir, constructed of rock, located in the channel of the Catawba River upstream from the railroad trestle at Nation Ford. Shoals on the Catawba were ideally suited for the construction of weirs because they provide areas where shallow water flowed over bedrock. The weir was formed by the placement of long rows of rocks in two wide "V" shapes with the open mouths of the "V" facing upstream. A cane basket or brush trap was usually placed across a small opening at the end of the "V." The current, flowing into the trap, would bring fish into the basket, from which they could not escape. The age of the weir and the identity of the builders is unknown. The Catawba Indians inhabited the area surrounding the weir for some time prior to the arrival of European settlers. The weir is in close proximity to Nation Ford, a favorite crossing point of the river for the Catawba's, and to several documented Catawba villages. Listed in the National Register March 1, 2007.
View the complete text of the nomination form for this National Register property. In addition, the Historic Resources of the Nation Ford Road Area includes historical background information for this and other related National Register properties.
Most National Register properties are privately owned and are not open to the public. The privacy of owners should be respected. Not all properties retain the same integrity as when originally documented and listed in the National Register due to changes and modifications over time.
Images and texts on these pages are intended for research or educational use. Please read our statement on use and reproduction for further information on how to obtain a photocopy or how to cite an item.
Images provided by the South Carolina Department of Archives and History.