South Carolina Department of Archives and History
National Register Properties in South Carolina

Black Mingo Baptist Church, Williamsburg County (Nesmith vicinity)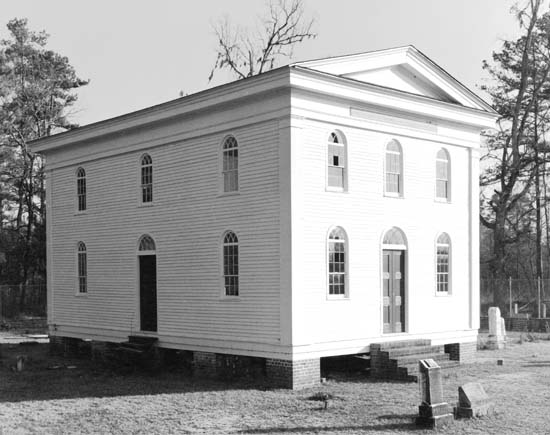 Left Oblique
Black Mingo Baptist Church, a meeting house type church building constructed ca. 1843, is a significant example of a local interpretation of the Greek Revival style. The building is historically significant because of its association with the development of the Baptist denomination in the Willtown area and with an individual prominent in the history of the region, Cleland Belin. Belin became one of the most prosperous and prominent individuals of the area as a merchant and owner of flat bottom boats. He built the Black Mingo Baptist Church near his residence approximately one half mile from the village of Willtown. A two-story rectangular block, the church is set on low brick piers of American Common bond. Notable architectural features include: the round headed window and door openings with intersecting tracery; the two-story, unfluted corner pilasters; the wide beaded entablature; the deep, boxed pediments; and, the slave gallery supported by elongated columns. Also of note are the scriptural quotations on panels mounted in the center of the frieze on the northwest and southwest elevations and painted on the front of the pulpit, over the rear window and front door, and on the frieze below the slave gallery. Included in the nominated acreage is a cemetery which surrounds the church and includes graves of Cleland Belin and other early members of the congregation. Listed in the National Register August 21, 1980. The Black Mingo Baptist Church has since burned. Removed from the National Register March 15, 2000.
View the complete text of the nomination form for this National Register property.
Most National Register properties are privately owned and are not open to the public. The privacy of owners should be respected. Not all properties retain the same integrity as when originally documented and listed in the National Register due to changes and modifications over time.
Images and texts on these pages are intended for research or educational use. Please read our statement on use and reproduction for further information on how to obtain a photocopy or how to cite an item.
Images provided by the South Carolina Department of Archives and History.