South Carolina Department of Archives and History
National Register Properties in South Carolina

Franklin Hotel, Spartanburg County (185 East Main St., Spartanburg)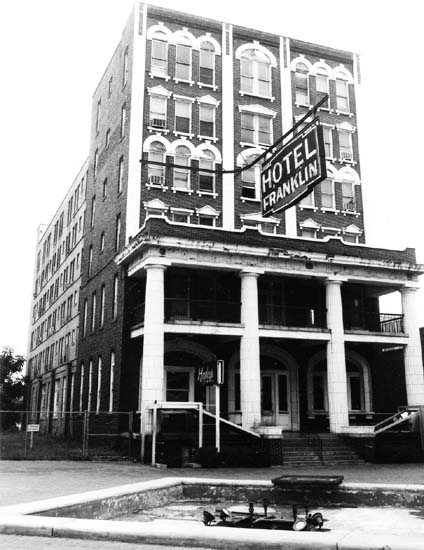 Facade
The Franklin Hotel is significant both in local history and architecture. Built by W.T. Finch, a local businessman and meat market operator, this building became a leading hotel of the community and shows the influence of both the Commercial and Neo-Classical styles of the early twentieth century. The hotel was built during a period of expansion and prosperity for Spartanburg. The Franklin Hotel is a steel frame, high rise building of six stories with a masonry exterior. The main fašade is dominated by a large two-story portico supported by Doric columns and features an entablature with triglyphs and metopes and a stepped parapet. The columns are fluted and sheathed with glazed terracotta tiles. The arched entryway is composed of terracotta tiles with a keystone. The fanlight contains multi-colored stained glass with the letter "F" placed in the center of the glass arrangement. The second story features a central doorway which opens onto an exterior balcony with an iron railing. The upper four stories are symmetrical in their fenestration and decorative elements. The building has a flat roof with simple brick corbelling at the roofline. Listed in the National Register July 28, 1983. The Franklin Hotel has since been demolished. Removed from the National Register March 15, 2000.
View the complete text of the nomination form for this National Register property.
Most National Register properties are privately owned and are not open to the public. The privacy of owners should be respected. Not all properties retain the same integrity as when originally documented and listed in the National Register due to changes and modifications over time.
Images and texts on these pages are intended for research or educational use. Please read our statement on use and reproduction for further information on how to obtain a photocopy or how to cite an item.
Images provided by the South Carolina Department of Archives and History.