South Carolina Department of Archives and History
National Register Properties in South Carolina

Pacolet Soapstone Quarries, Spartanburg County (Addresses Restricted)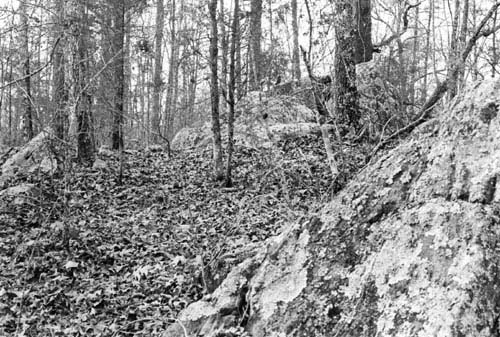 Soapstone Outcroppings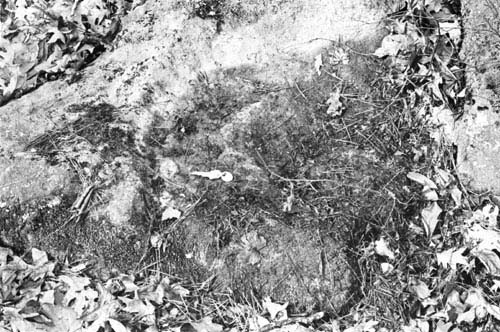 Soapstone Outcropping with Bowl Scar
The soapstone quarries located in Spartanburg and Cherokee counties are distinct, well preserved examples of a once numerous, but now rapidly vanishing, specialized procurement site. These quarries are important archeological resources, which due to their location, preservation and intact context offer data amenable to research problems in five major areas: the delineation of regional patterns of cultural development; the reconstruction of lithic technological subsystems of cultural systems; the interpretation of economic and subsistence subsystems of cultural systems; the study of site formation processes; and, interdisciplinary studies. There occurs in these counties an extensive zone of soapstone deposits from which, primarily during the prehistoric, Late Archaic Period (3000 B.C.-500 B.C.), soapstone was procured. Within this zone are located sixteen soapstone quarry localities exhibiting evidence of prehistoric utilization, specifically vessel production. The most prominent features of the quarry sites are large outcropping boulders of soapstone. Around the boulders there occur depressions and concentrations of soapstone debris. Topographically, the quarry deposits occur along ridges. Soapstone, a hydrous magnesium silicate, can occur geologically by the alteration of certain ultramafic igneous intrusives that occur within the metamorphic rocks. Listed in the National Register December 10, 1980.
The Historic Resources of Pacolet Soapstone Quarries includes historical background information for this and other related National Register properties.
Most National Register properties are privately owned and are not open to the public. The privacy of owners should be respected. Not all properties retain the same integrity as when originally documented and listed in the National Register due to changes and modifications over time.
Images and texts on these pages are intended for research or educational use. Please read our statement on use and reproduction for further information on how to obtain a photocopy or how to cite an item.
Images provided by the South Carolina Department of Archives and History.