South Carolina Department of Archives and History
National Register Properties in South Carolina

South Carolina Dispensary Office Building, Richland County (1205 Pulaski Street, Columbia)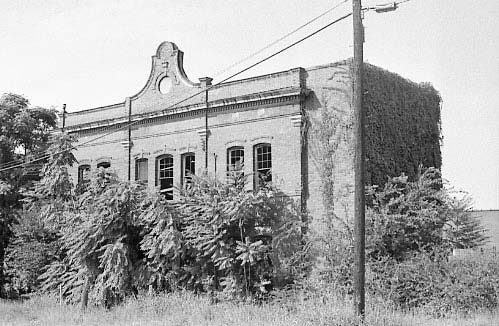 Right Oblique
The Dispensary Office Building was constructed in 1901 as the office building for the South Carolina liquor dispensary system. This system of state control of alcoholic beverages began in 1895 and lasted until 1907. The building is also significant architecturally, having been designed by Frank P. Milburn in the early twentieth century Italian Classic Revival style. The Dispensary Office Building is a two-story brick building. The first and second stories are divided by horizontal bands of brickwork; the second story bays are accented by brick pilasters, and a projecting cornice molding extends along the front fašade. The front fašade is divided into three bays. The central bay features a central entrance door with flanking windows. A stone balcony projects above the entrance and above the balcony on the second level are three arched windows. The central bay is further accented by a fancifully shaped pediment with rondelle. Listed in the National Register March 2, 1979. The South Carolina Dispensary Office Building is no longer extant. Removed from the National Register December 12, 1989.
View the complete text of the nomination form for this National Register property.
Most National Register properties are privately owned and are not open to the public. The privacy of owners should be respected. Not all properties retain the same integrity as when originally documented and listed in the National Register due to changes and modifications over time.
Images and texts on these pages are intended for research or educational use. Please read our statement on use and reproduction for further information on how to obtain a photocopy or how to cite an item.
Images provided by the South Carolina Department of Archives and History.