South Carolina Department of Archives and History
National Register Properties in South Carolina

Zion Protestant Episcopal Church, Richland County (Hwy. 263, Eastover)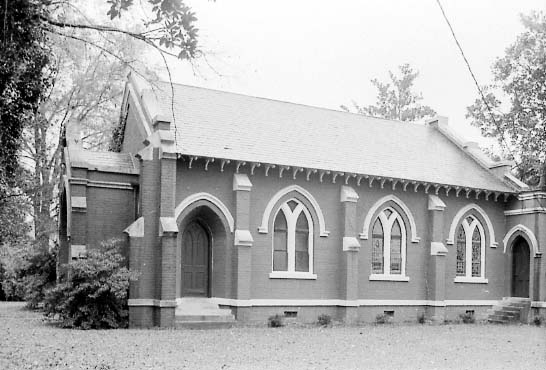 Right Elevation
Zion Protestant Episcopal Church is a locally significant example of an early twentieth century Gothic Revival church building. Designed by James Hagood Sams, prominent Columbia architect between 1899 and 1932, this 1911 building is the third sanctuary for the congregation which was organized in 1845. The building is of painted brick with cement trimming. The rectangular nave is oriented to the east, with a small narthex at the west end. Entrance to the narthex is via a broad-arched portal. The narthex has a stepped and gabled parapet, reflecting the larger parapet of the nave roof. A corbelled brick cornice with trefoil motives is beneath the eaves. The gable roof is sheathed in slate. A cemetery, pre-dating this building, is located at the rear of the church and contains the graves of many of lower Richlandís prominent citizens. It, as well as the church, is encircled by a brick and wrought iron fence with granite gate and corner posts, which was apparently also designed by Sams and set into place in 1926. Listed in the National Register March 27, 1986. Zion Protestant Episcopal Church has since burned. Removed from the National Register March 15, 2000.
View the complete text of the nomination form for this National Register property.
Most National Register properties are privately owned and are not open to the public. The privacy of owners should be respected. Not all properties retain the same integrity as when originally documented and listed in the National Register due to changes and modifications over time.
Images and texts on these pages are intended for research or educational use. Please read our statement on use and reproduction for further information on how to obtain a photocopy or how to cite an item.
Images provided by the South Carolina Department of Archives and History.