South Carolina Department of Archives and History
National Register Properties in South Carolina

Bridge Abutments, Richland County (Address Restricted)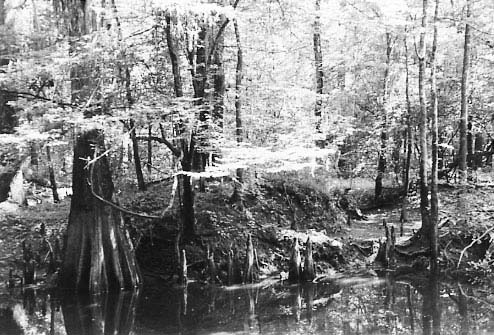 Bridge Abutments
The Bridge Abutments are significant for their ability to yield information about settlement patterns in the region. Beginning in 1730, small farmers moved into the backcountry of South Carolina to find fertile farmland and to create "buffer zones" between the backcountry and the heavy coastal settlement centered around the city of Charleston. After the end of the Cherokee War in 1761 and the establishment of the state capital at Columbia in 1786, wealthy planters moved into the Congaree River valley to introduce the plantation system to the region. Utilizing existing Native American trading paths, settlers built roads and ferries across the swamp to provide a means of transporting produce and livestock to markets in cities such as Charleston. These four pair of earthen abutments may be the remains of a bridge associated with a road and ferry system constructed by Isaac Huger in the 1780s. The abutments vary in size from 5-to10-feet high and 10-to-15-feet wide. Wood structural bridge ties are extant on the southernmost set of abutments. Listed in the National Register November 25, 1996.
View the complete text of the nomination form for this National Register property. In addition, the Historic Agricultural Resources of Congaree Swamp National Monument, 1740-1900 includes historical background information for this and other related National Register properties.
Most National Register properties are privately owned and are not open to the public. The privacy of owners should be respected. Not all properties retain the same integrity as when originally documented and listed in the National Register due to changes and modifications over time.
Images and texts on these pages are intended for research or educational use. Please read our statement on use and reproduction for further information on how to obtain a photocopy or how to cite an item.
Images provided by the South Carolina Department of Archives and History.