South Carolina Department of Archives and History
National Register Properties in South Carolina

George P. Hoffman House, Richland County (off S.C. Sec. Rd. 54, Blythewood)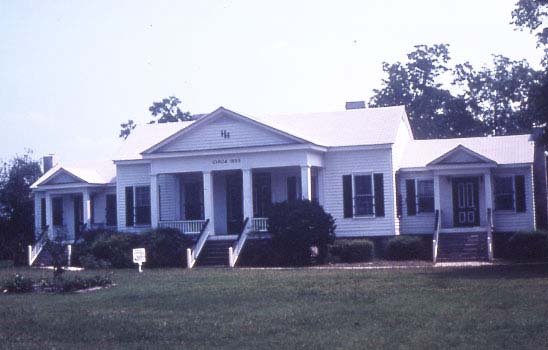 Facade
The George P. Hoffman House, reputedly built ca. 1855, is the oldest building in the present-day town of Blythewood and is significant for its association with the early development of the community. The construction of the house preceded Blythewood. A settlement known as Doko developed in this area around a stop of the Charlotte and South Carolina Railroad line, which was completed in 1852. In 1879, the village was incorporated as the Town of Blythewood and in 1918 Blythewood was included in a section of Fairfield County that was added to Richland County. The original owner, George P. Hoffman was a native of North Carolina. In 1860, Hoffman owned six slaves and was farming 34 acres. By 1870, he was operating a substantial sawmill that employed an average of twelve hands. The house is a one-story braced-frame Greek Revival style residence that has been enlarged and remodeled in several phases, but the original structure is largely intact. The house has a central, five-bay block with weatherboard siding and a masonry foundation. A pedimented porch spans the three central bays of the fašade. This porch has paneled piers and flushboard siding. The central entrance has a rectangular transom and sidelights. Listed in the National Register March 27, 1986.
View the complete text of the nomination form for this National Register property.
Most National Register properties are privately owned and are not open to the public. The privacy of owners should be respected. Not all properties retain the same integrity as when originally documented and listed in the National Register due to changes and modifications over time.
Images and texts on these pages are intended for research or educational use. Please read our statement on use and reproduction for further information on how to obtain a photocopy or how to cite an item.
Images provided by the South Carolina Department of Archives and History.