South Carolina Department of Archives and History
National Register Properties in South Carolina

First National Bank, Richland County (1208 Washington St., Columbia)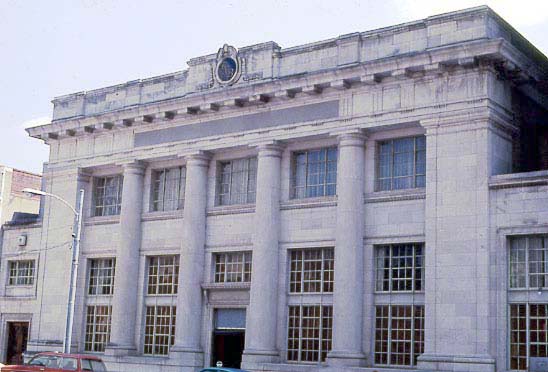 Facade
Built about 1924, the First National Bank is an excellent example of Classical Revival design. The massive stone fašade is characteristic of bank architecture of the 1920s. Located directly east of the National Loan and Exchange Bank, the First National Bank Building was originally constructed as an addition to the National Loan and Exchange. Following the 1933 closing of United States banks, depositors and stockholders of the National Loan and Exchange Bank organized the First National Bank, Columbia's largest bank, in 1934. The building has a two-story rectangular stone fašade with flanking one-story wings. Its most prominent features are four monumental three-quarter detached columns separated by five bays with multi-paned windows. Corners of the main building feature vertical blocks with projecting pilasters. One-story wings on either side of building extend to cornice level. The columns support a full Doric entablature. Triglyphs and metopes of frieze are interrupted by an unornamented space reserved for name of bank. The fašade is topped by a parapet with five projecting panels. The largest panel is in the center and contains an oval cartouche with fruit and foliage ornamentation on either side. Listed in the National Register November 25, 1980.
View the complete text of the nomination form for this National Register property. In addition, the Historic Resources of Columbia includes historical background information for this and other related National Register properties.
Most National Register properties are privately owned and are not open to the public. The privacy of owners should be respected. Not all properties retain the same integrity as when originally documented and listed in the National Register due to changes and modifications over time.
Images and texts on these pages are intended for research or educational use. Please read our statement on use and reproduction for further information on how to obtain a photocopy or how to cite an item.
Images provided by the South Carolina Department of Archives and History.