South Carolina Department of Archives and History
National Register Properties in South Carolina

Lyles-Gudmunson House, Richland County (Address Restricted)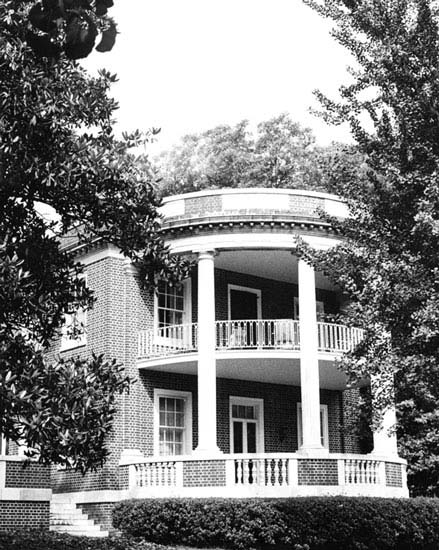 Facade
An imposing brick and marble house built for the daughter of a prosperous Columbia banker, the Lyles-Gudmundson house was designed by architect James Brite of New York. Located in Wales Garden, a suburb developed by Edwin Wales Robertson, the house was constructed as a wedding gift for Evelyn Robertson Lyles. Robertson, a Columbia banker, developer and entrepreneur, was responsible for much of Columbia's early twentieth century development. From October 1918 until January 1921 construction was discontinued due to the difficulties of obtaining materials from Europe. The Lyles family moved in the house in 1922. The two-story Classical Revival style house features English bond brick with marble trim and a semicircular portico with marble columns on the east fašade. The four two-story high fluted columns are set on a railing of brick panels and stone balusters. The portico has a full entablature of architrave with guttae, unadorned frieze, and cornice. Above the cornice the brick parapet contains six stone panels ornamented with three garlands. There are two chimneys which extend from the flat roof. A smaller wing on the west is recessed from the main fašade. The entrance portico has four marble columns and two pilasters supporting a flat roof which is surrounded by a balustrade. A modified entablature and a brick parapet with marble trim top the building. Listed in the National Register March 2, 1979.
View the complete text of the nomination form for this National Register property. In addition, the Historic Resources of Columbia includes historical background information for this and other related National Register properties.
Most National Register properties are privately owned and are not open to the public. The privacy of owners should be respected. Not all properties retain the same integrity as when originally documented and listed in the National Register due to changes and modifications over time.
Images and texts on these pages are intended for research or educational use. Please read our statement on use and reproduction for further information on how to obtain a photocopy or how to cite an item.
Images provided by the South Carolina Department of Archives and History.