South Carolina Department of Archives and History
National Register Properties in South Carolina

Dovilliers-Manning-Magoffin House, Richland County (4203 St. Clair Dr., Columbia)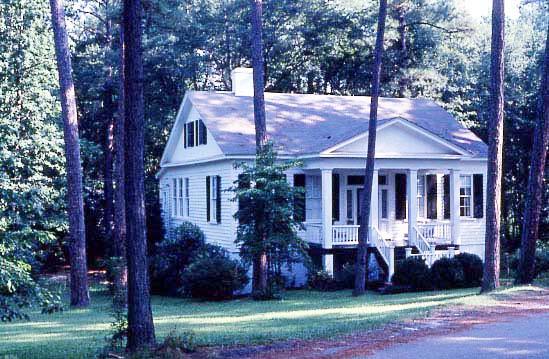 Facade
The Dovilliers-Manning-Magoffin House is significant as a good example of a raised Greek Revival house known locally as a Columbia Cottage. It is a one and one-half story clapboard structure set on a raised basement. The structure is also important for its associations with its former owners, including Eugene Dovilliers, an artist; the Manning family; and Dr. Ralph Deman Magoffin, a noted classical archaeologist. Although the structure was moved in 1964 when demolition was imminent, it retains its historic integrity. It is believed that the structure was built between 1853 and 1859 by Dovilliers. One of the few documented artists residing in antebellum Columbia, Dovilliers painted several of Columbia's natural and man-made landmarks. He also taught French, drawing and painting at Barhamville, a female college in existence from 1817 to 1861. The second owner of the property was Wade Hampton Manning. The structure's third owner, Kate Hampton Manning, was married to Dr. Ralph Deman Magoffin (1874-1942), a prominent classical archaeologist. Magoffin was professor of Classical History and instructor of Archaeology at Johns Hopkins, in charge of Classical Studies at the American Academy in Rome in 1920-21 and from 1923 to 1930 head of the Department of Classics at New York University. From 1908 to 1934 he wrote eight books on archaeology and history, including Magic Spades: The Romance of Archeology, which was widely used as a university textbook. Listed in the National Register March 2, 1979.
View the complete text of the nomination form for this National Register property. In addition, the Historic Resources of Columbia includes historical background information for this and other related National Register properties.
Most National Register properties are privately owned and are not open to the public. The privacy of owners should be respected. Not all properties retain the same integrity as when originally documented and listed in the National Register due to changes and modifications over time.
Images and texts on these pages are intended for research or educational use. Please read our statement on use and reproduction for further information on how to obtain a photocopy or how to cite an item.
Images provided by the South Carolina Department of Archives and History.