South Carolina Department of Archives and History
National Register Properties in South Carolina

Chapelle Administration Building, Richland County (Allen University, 1530 Harden St., Columbia)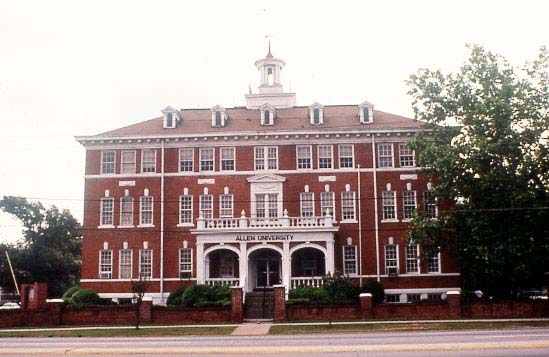 Facade
The Chapelle Administration Building was designed by John Anderson Lankford, known as the "dean of black architects." After receiving his formal education, Lankford turned the skills he acquired into service for African-Americans. For many years he was an educator in a field not generally open to African Americans. He combined his diversified background into his buildings carrying forth his philosophy that physical structures should be functional, practical and beautiful. In his position as Church Architect and Supervisor of the A.M.E. church, Lankford designed churches throughout the South and the West. Lankford's concern for the education of African Americans is demonstrated in the many school buildings that he designed of which Chapelle is an outstanding example. Construction was begun on Chapelle in 1922 and the structure was completed in 1925 for the cost of $165,000. Its function has remained the same since that time. Chapelle is a three-story brick building with basement. The basement to Chapelle contains a kitchen and dining hall, print shop and mailroom. An assembly hall and administrative offices are located on the first floor while the second and third levels are composed of classrooms. The only change in the building's use has come with the removal of the library to a separate facility built expressly to house that collection. Entrance to the three-story building is made from Harden Street through a three-arched portico with balustrade running continuous from the ground up along eight steps and around the portico. The building is topped by a round cupola with clock and chimes. The original cupola was destroyed by lightening in 1974, but has since been restored. Listed in the National Register December 8, 1976; Designated a National Historic Landmark December 8, 1976.
View the complete text of the nomination form for this National Register property.
Most National Register properties are privately owned and are not open to the public. The privacy of owners should be respected. Not all properties retain the same integrity as when originally documented and listed in the National Register due to changes and modifications over time.
Images and texts on these pages are intended for research or educational use. Please read our statement on use and reproduction for further information on how to obtain a photocopy or how to cite an item.
Images provided by the South Carolina Department of Archives and History.