South Carolina Department of Archives and History
National Register Properties in South Carolina

Caldwell-Hampton-Boylston House, Richland County (829 Richland St., Columbia)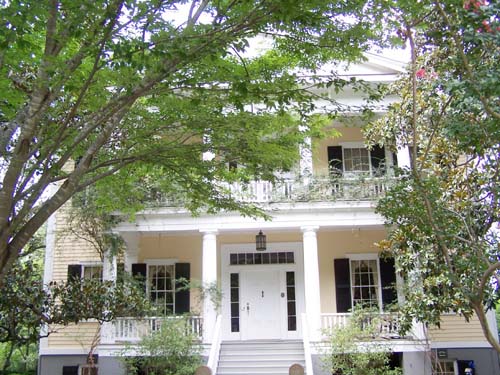 Facade
The Caldwell-Hampton-Boylston House is significant as one of Columbia's finest examples of Greek Revival architecture. The house is historically and politically significant because of its owners who were important in South Carolina affairs and its proximity and association with the Governor's Mansion. In 1869, the house was bought by Daniel H. Chamberlain, South Carolina Reconstruction governor, who resided there 1874-1876. It was also the home of John Caldwell, Columbia banker, and later the Frank Hampton (brother of General Wade Hampton) family. The significance of the gardens should also be noted. Planting had probably been done when the house was built ca. 1830 and added to throughout the last half of the nineteenth century. Mrs. Sarah Porter Smith of Chicago bought the house in 1895 for winter quarters and began further landscaping, featuring formal arrangements of boxwoods, grassy plots, shady arbors, walls and statuary with hundreds of azaleas, camellias and dogwoods, as well as rare shrubs and trees. During her and the subsequent ownership by her niece, Mrs. Sarah Porter Boylston, the gardens were a social gathering place and used for elaborate garden parties. The house is a three-story clapboard Greek Revival mansion with two matching inside chimneys. The double-tiered porches are supported by four columns and have a simple balustrade on each story. The house and gardens are surrounded by handsome ironwork and brick fencing (ca. 1855). Outbuildings include a stable/carriage house, garden gazebo, and tea house. Listed in the National Register May 6, 1971.
View the complete text of the nomination form for this National Register property.
Most National Register properties are privately owned and are not open to the public. The privacy of owners should be respected. Not all properties retain the same integrity as when originally documented and listed in the National Register due to changes and modifications over time.
Images and texts on these pages are intended for research or educational use. Please read our statement on use and reproduction for further information on how to obtain a photocopy or how to cite an item.
Images provided by the
South Carolina Department of Archives and History.