South Carolina Department of Archives and History
National Register Properties in South Carolina

The Rocks Plantation, Orangeburg County (Eutawville vicinity)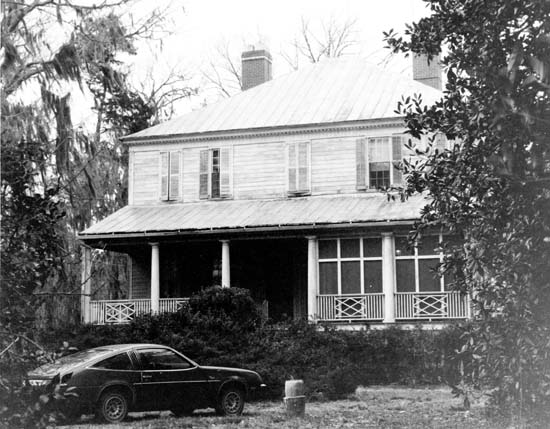 Facade
The Rocks Plantation was built between 1803 and 1805 by Peter Gaillard, who recorded its construction in detail in his letter book. Originally one of several plantations of its type in St. John's Parish, it is one of the few which were not inundated by the Santee-Cooper project in the 1940s. To preserve the Rocks, the owner, J. Rutledge Conner, moved it (along with slave quarters, smokehouse, and several other structures) approximately 1.6 miles. The Rocks is also recognized as having been the home of two South Carolina families who pioneered in the state's agricultural development. The Rocks is a two-story frame structure set upon a raised brick basement. The Rocks exemplifies a regional style of architecture which features a type of paired, separate front doors. The house features a hip metal roof with two interior chimneys. Six Tuscan columns support a one-story portico. At the rear of the structure is a one-story shed addition with exterior chimneys at both ends. Listed in the National Register July 13, 1976. The Rocks Plantation has since burned. Removed from the National Register March 15, 2000.
View the complete text of the nomination form for this National Register property.
Most National Register properties are privately owned and are not open to the public. The privacy of owners should be respected. Not all properties retain the same integrity as when originally documented and listed in the National Register due to changes and modifications over time.
Images and texts on these pages are intended for research or educational use. Please read our statement on use and reproduction for further information on how to obtain a photocopy or how to cite an item.
Images provided by the
South Carolina Department of Archives and History.