South Carolina Department of Archives and History
National Register Properties in South Carolina

Stumphouse Tunnel Complex, Oconee County (S.C. Sec. Rd. 226, Walhalla vicinity)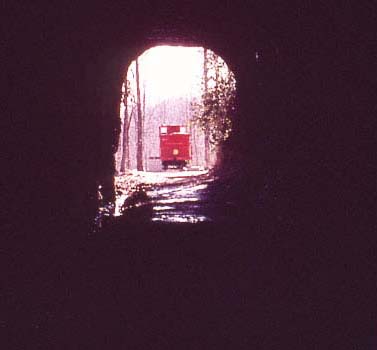 Tunnel
The Stumphouse Tunnel Complex is comprised of forty acres of land, two acres of water, and includes Stumphouse Mountain Tunnel, Middle Tunnel, and the 385-foot original railroad bed connecting them, picnic and camping areas, and a museum of railroad history in an old caboose. Stumphouse Mountain and Middle Tunnels were part of the Blue Ridge Railroad project, which was planned as the final link in a shipping route from the Mississippi to the Atlantic seaboard. The 1850s project involved the construction of tunnels, cuts, and embankments in four states, and was first proposed in the 1830s by South Carolina Governor Robert Hayne, who hoped it would help to harmonize conflicting sectional interests in the nation. It would have provided railroad lines to the midwest for Charleston, SC, Wilmington, NC, and Savannah, GA. Had it been completed, the Stumphouse Mountain Tunnel would have been the longest tunnel in the United States. Cut through solid blue granite, it was the largest of three tunnels which would have pierce Rabun Gap and comprised a final section of the line from Charleston to northeastern Georgia. Only one of these tunnels, the 365-foot Middle Tunnel, was finished. The Civil War and subsequent collapse of the state's economy sealed the tunnel's doom. Despite attempts in 1875, 1900, and 1940 to revive its construction, the tunnel was never completed. Stumphouse Tunnel was the 1950s site of the first successful attempt to age blue cheese in the South by Clemson University. Listed in the National Register April 7, 1971.
View the complete text of the nomination form for this National Register property.
Most National Register properties are privately owned and are not open to the public. The privacy of owners should be respected. Not all properties retain the same integrity as when originally documented and listed in the National Register due to changes and modifications over time.
Images and texts on these pages are intended for research or educational use. Please read our statement on use and reproduction for further information on how to obtain a photocopy or how to cite an item.
Images provided by the
South Carolina Department of Archives and History.