South Carolina Department of Archives and History
National Register Properties in South Carolina

Stewart House, Newberry County (1001 Wilson St., Newberry)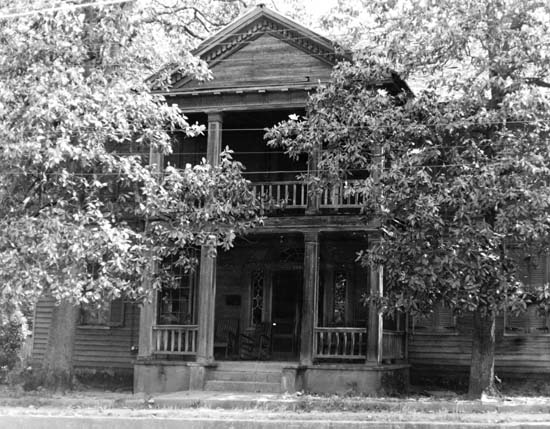 Facade
The Stewart House was built for Robert Stewart, prominent Newberry merchant, by builder Phillip Schoppert, who also constructed "Coateswood" for Chancellor Job Johnstone. Its unpainted weatherboard exterior with fine classical ornamentation makes it Newberry's most intact historical dwelling. The house was the scene in 1859 of the poisoning of the Stewart housekeeper by a young black slave named Fanny, who was subsequently convicted of the crime and hanged. Built in 1842, the Greek Revival residence is a two-story rectangular frame dwelling with a pedimented double-tiered portico projecting from the fašade. The raking cornice of the front pediment displays dentils. Plain square wood balustrades connect four square wood pillars on each porch tier. A molded architrave with tracery fan and sidelights frame each floor's central doorway. A rear right addition of two stories extends into an ell. Listed in the National Register November 26, 1980. The Stewart House has since been moved. Removed from the National Register March 15, 2000.
View the complete text of the nomination form for this National Register property.
Most National Register properties are privately owned and are not open to the public. The privacy of owners should be respected. Not all properties retain the same integrity as when originally documented and listed in the National Register due to changes and modifications over time.
Images and texts on these pages are intended for research or educational use. Please read our statement on use and reproduction for further information on how to obtain a photocopy or how to cite an item.
Images provided by the
South Carolina Department of Archives and History.