South Carolina Department of Archives and History
National Register Properties in South Carolina

Summer Brothers Stores, Newberry County (900 Main St., Newberry)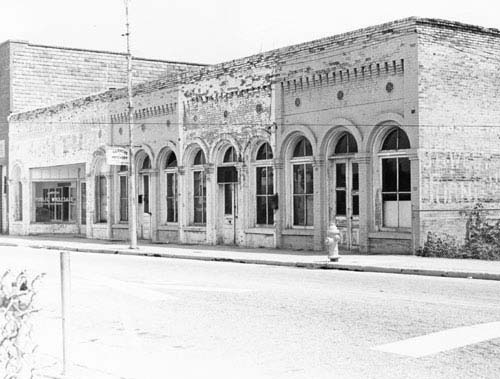 Facade
The Summer Brothers Stores represent a significant survival of a late Victorian commercial range, distinguished by the quality of the brick construction. The unity of the range is established not only by the brick arcade, but also by the corbeled brick cornice, which extends across the length of the range. Built in 1898, this row of four one-story brick commercial buildings has party walls and a repetitive arcaded fašade consisting of three bays apiece for the three stories to the right of the left end store. The latter element of this continuous row exhibits two arcaded bays enframing angled display windows, which lead to a central doorway. The other three stores each have central double doors flanked by display windows of large four-pane sash with all three bays having identical proportions under the connecting arches. Above the arches are small circular ventilator grilles, which are surmounted by a full width decorative corbel course. The row was built by Charles, George, and J.H. Summer. Listed in the National Register November 26, 1980.
View the complete text of the nomination form for this National Register property. In addition, the Historic Resources of Newberry includes historical background information for this and other related National Register properties.
Most National Register properties are privately owned and are not open to the public. The privacy of owners should be respected. Not all properties retain the same integrity as when originally documented and listed in the National Register due to changes and modifications over time.
Images and texts on these pages are intended for research or educational use. Please read our statement on use and reproduction for further information on how to obtain a photocopy or how to cite an item.
Images provided by the
South Carolina Department of Archives and History.