South Carolina Department of Archives and History
National Register Properties in South Carolina

Farmer's Bank, McCormick County (Main St., McCormick)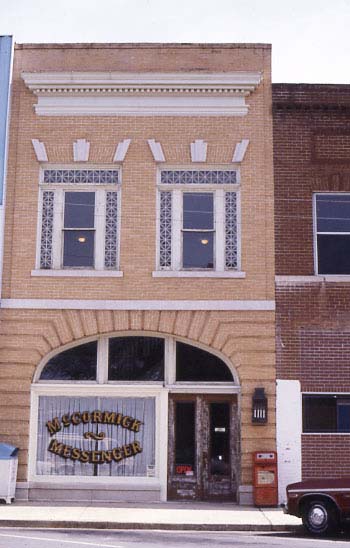 Facade
(McCormick Messenger Building) The Farmer's Bank building is a two-story frame and masonry building constructed ca. 1911. The storefront is composed of large frame and glass double doors, plate glass display windows and three-light transom. The storefront is encompassed by a large rounded arch with radiating voussoirs and quoins. On the second story are two windows with jack arching and keystones. The windows are one-over-one sash with decorative "English Jack" design sidelights and transoms. Above the windows is a sheet metal cornice with dentils. The interior has retained its original staircase and bank vault. The Farmer's Bank was organized in McCormick in 1907 and was one of two banks which operated in McCormick in the early 1900s. The original bank building was constructed in 1908 and stood until the fire of February 1910, which destroyed most of the commercial area. This building was completed in 1911 and reflected the classical influences of the period through its detailing. By 1916 the bank had assets of $25,000 and was a leading financial institution of the newly formed county. Listed in the National Register December 12, 1985.
View the complete text of the nomination form for this National Register property. In addition, the Historic Resources of McCormick, ca. 1852-ca.1923 includes historical background information for this and other related National Register properties.
Most National Register properties are privately owned and are not open to the public. The privacy of owners should be respected. Not all properties retain the same integrity as when originally documented and listed in the National Register due to changes and modifications over time.
Images and texts on these pages are intended for research or educational use. Please read our statement on use and reproduction for further information on how to obtain a photocopy or how to cite an item.
Images provided by the
South Carolina Department of Archives and History.