South Carolina Department of Archives and History
National Register Properties in South Carolina

Joseph Jennings Dorn House, McCormick County (Gold & Oak Sts., McCormick)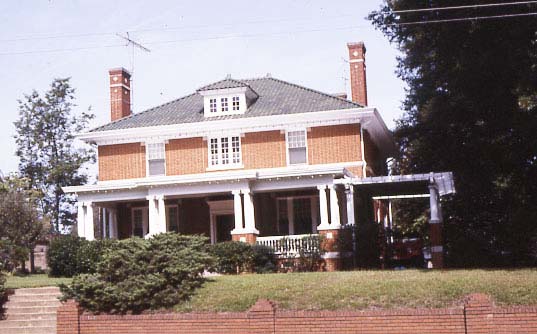 Facade
The Joseph Jennings Dorn House was built ca. 1917 in the Colonial Revival style and is one of the few early brick homes in McCormick. The house is two stories with the main fašade oriented towards Gold Street. The house features a one-story porch with paired Ionic columns, an open port-cochere with extended roof brackets, Flemish bond brick construction, Corinthian motif pilasters, a dentilled cornice, and a terracotta tile roof. At the rear of the house is a one-story brick garage built ca. 1917. The house was built by Joseph Jennings Dorn, a prominent businessman and politician. Around 1917 Dorn commissioned architects J.E. Summer and J.C. Hemphill of Greenwood to design this house in McCormick. Upon its completion the house was one of the largest and most ornate in the community. Dorn was the great-nephew of gold miner William Dorn and owned many large farms in McCormick vicinity in the early 1900s. He was a co-owner of the McCormick Manufacturing Company, Dorn Lumber Company, and president of the Dorn Banking Company. In 1917 Dorn purchased the McCormick cotton seed oil mill along with his brother Martin Gary Dorn and Preston Finley. This mill complex was one of the major industries in the community, and the Dorn brothers operated the mill for many years. In 1930 Jennings Dorn was elected to the state senate and served until 1936 when he was killed in an automobile accident. Listed in the National Register December 12, 1985.
View the complete text of the nomination form for this National Register property. In addition, the Historic Resources of McCormick, ca. 1852-ca.1923 includes historical background information for this and other related National Register properties.
Most National Register properties are privately owned and are not open to the public. The privacy of owners should be respected. Not all properties retain the same integrity as when originally documented and listed in the National Register due to changes and modifications over time.
Images and texts on these pages are intended for research or educational use. Please read our statement on use and reproduction for further information on how to obtain a photocopy or how to cite an item.
Images provided by the
South Carolina Department of Archives and History.