South Carolina Department of Archives and History
National Register Properties in South Carolina

George's Grist and Flour Mill, Lexington County (Gibson's Pond Rd., Lexington)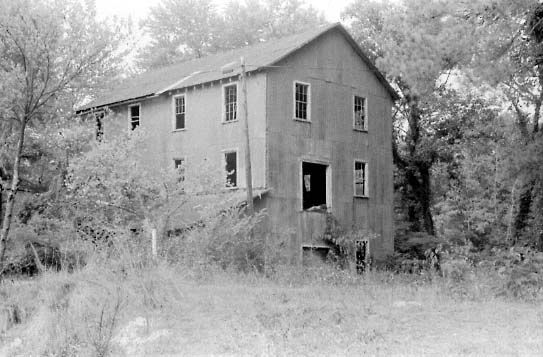 Left Oblique
George's Grist and Flour Mill is significant in Lexington County's industrial history. It is the last mill known to have intact internal workings and was the last operating flour mill in the county and the last mill of any kind on Twelve Mile Creek. The building is the second grist and flour mill on the site. The present mill building, which was constructed ca. 1924 and operated until 1946 by Dibble George, son of E.J. George, milled feed grain, grist, flour, and whole wheat. Milled grains were bagged in two-, five-, and ten-pound paper sacks tied by hand with white wrapping string. The sacks carried the trade name, "George's Flour Mill, Lexington, S.C." with an imprinted sheaf of wheat emblem and were sold in retail grocery stores in the county. George's Grist and Flour Mill is a three-story rectangular frame gable-roofed building with a one-story shed room. It is sheathed in corrugated metal siding and covered by a metal roof. Listed in the National Register November 22, 1983. George's Grist and Flour Mill has since burned. Removed from the National Register March 15, 2000.
View the complete text of the nomination form for this National Register property.
Most National Register properties are privately owned and are not open to the public. The privacy of owners should be respected. Not all properties retain the same integrity as when originally documented and listed in the National Register due to changes and modifications over time.
Images and texts on these pages are intended for research or educational use. Please read our statement on use and reproduction for further information on how to obtain a photocopy or how to cite an item.
Images provided by the
South Carolina Department of Archives and History.