South Carolina Department of Archives and History
National Register Properties in South Carolina

James Harman Building, Lexington County (Gantt St., Lexington)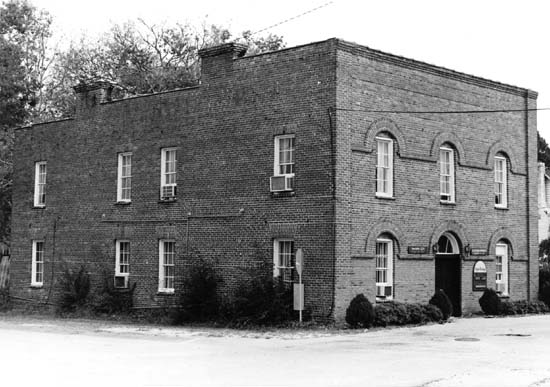 Left Oblique
The James Harman Building was constructed for Dr. James Harman (1845-1928), a Lexington dentist, by U.U. Campbell, a Georgia contractor. It is important as an unaltered turn-of-the-century architectural specimen and as one of five commercial buildings that survived the 1916 fire. It is also a local landmark associated with the professional community because of its continuous use since its construction as offices for local lawyers, physicians and dentists. Constructed ca. 1901, the James Harman Building is a two-story, rectangular, brick building with a flat parapet on the fašade and a stepped parapet with chimneys on each side elevation. The fašade features a corbeled cornice and wall pilasters of brick, and has three bays on each story. The first story bays consist of a double door with semicircular transom flanked by six-over-six windows. The bays on each story are unified by connecting round arches of projecting brick courses. Four single six-over-six windows with flat arches on both stories pierce the side elevations in vertical alignment. Listed in the National Register November 22, 1983.
View the complete text of the nomination form for this National Register property. In addition, the Historic Resources of Lexington County includes historical background information for this and other related National Register properties.
Most National Register properties are privately owned and are not open to the public. The privacy of owners should be respected. Not all properties retain the same integrity as when originally documented and listed in the National Register due to changes and modifications over time.
Images and texts on these pages are intended for research or educational use. Please read our statement on use and reproduction for further information on how to obtain a photocopy or how to cite an item.
Images provided by the
South Carolina Department of Archives and History.