South Carolina Department of Archives and History
National Register Properties in South Carolina

Old Batesburg-Leesville High School, Lexington County (Columbia Ave., Leesville)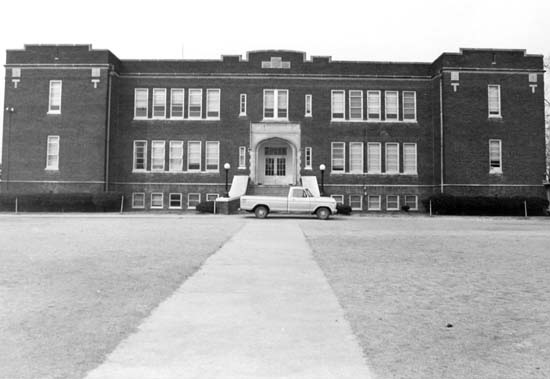 Facade
(Batesburg-Leesville Middle School) Constructed in 1921, this two story red brick building is representative of public school architecture of the day. The architect for the high school was Jesse Wessinger of West Columbia. The composition and the main entrance show the influence of the Tudor Gothic Revival. The building rises from a raised basement to a low parapet roof banded in concrete. Flanking pavilions, with single vertical windows piercing each main floor, enframe a central block, punctuated by repetitive vertical windows of horizontal, moveable sash. A concrete entablature surmounts a Tudor arched entranceway leading to double front doors. Decorative elements include a lower concrete beltcourse and projecting cornice. An applied school emblem in concrete accents the central parapet. Additional applied panels appear on each side of the pavilion facades. Construction of the Batesburg-Leesville High School represented the first cooperative venture between the two towns. Significantly, the building was placed in the center of the 500 yard "no man's land" unincorporated area separating the two municipalities. Listed in the National Register July 6, 1982.
View the complete text of the nomination form for this National Register property. In addition, the Historic Resources of Batesburg-Leesville includes historical background information for this and other related National Register properties.
Most National Register properties are privately owned and are not open to the public. The privacy of owners should be respected. Not all properties retain the same integrity as when originally documented and listed in the National Register due to changes and modifications over time.
Images and texts on these pages are intended for research or educational use. Please read our statement on use and reproduction for further information on how to obtain a photocopy or how to cite an item.
Images provided by the
South Carolina Department of Archives and History.