South Carolina Department of Archives and History
National Register Properties in South Carolina

Midfield Plantation, Kershaw County (S.C. Sec. Rd. 23, Boykin vicinity)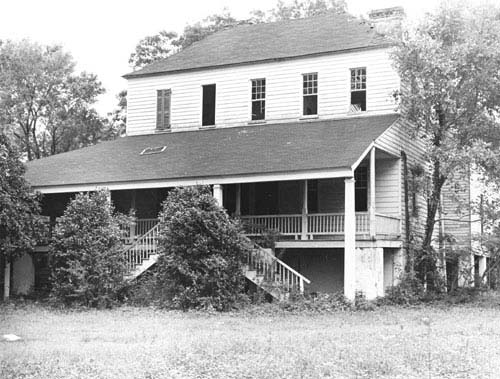 Facade
(Ellerbe House; Boineau House) Midfield Plantation House, built ca. 1821, is significant for its association with the cultural and social development of Kershaw County, for its background role in the enactment of the state's anti-dueling law and for its unusual architectural blending of building traditions of coastal and central South Carolina. The house was built by Thomas McCrady, an attorney from Charleston, soon after he purchased the property in 1821. The house and plantation were purchased in 1835 by Dr. and Mrs. William E. Ellerbe and has remained in the Ellerbe family (in its Boineau line). The house shows the influence of the Charleston "single house," and, in general style, resembles plantation houses near Charleston in its use of frame construction on a high masonry basement and in its use of the piazza. The pairing of entrance doors, each door leading to a separate rooms, is a feature common to plantation houses in Berkeley County, near Charleston. The recessing of the older porch or piazza behind a later porch mounted on tall, free-standing pillars, reflects an architectural tradition of the Kershaw County area. The house has been altered with rear additions of ca. 1900 which appear to have replaced a one-story shed-type roof. Included within the nominated acreage are the remains of the original kitchen and smokehouse. South Carolina's anti-dueling law of 1881 resulted from public outrage concerning the last formal duel in the state, on July 5, 1880, in which a participant was killed. The duel resulted from a lawsuit in which Midfield Plantation was involved. Listed in the National Register April 20, 1978. It has since been demolished.
View the complete text of the nomination form for this National Register property.
Most National Register properties are privately owned and are not open to the public. The privacy of owners should be respected. Not all properties retain the same integrity as when originally documented and listed in the National Register due to changes and modifications over time.
Images and texts on these pages are intended for research or educational use. Please read our statement on use and reproduction for further information on how to obtain a photocopy or how to cite an item.
Images provided by the
South Carolina Department of Archives and History.