South Carolina Department of Archives and History
National Register Properties in South Carolina

Greenville City Hall, Greenville County (Main and Broad Sts., Greenville)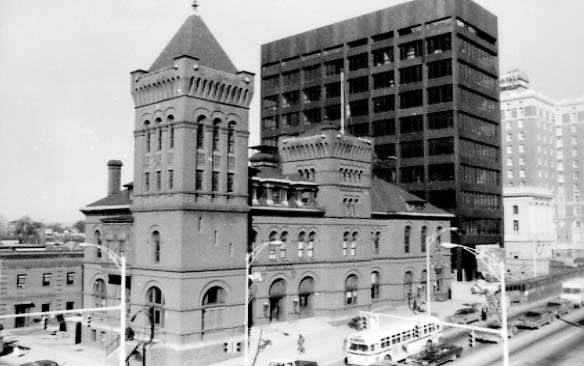 Left Oblique
Greenville City Hall has traditionally been considered one of the best pieces of period architecture in the region. It has been described as "a gem of Romanesque Revival architecture with its castellated towers, rare, pre-cast terra cotta insets, and one-quarter- inch brickwork joints." The Court House and Post Office in Greenville was built in 1889, designed by architect James H. Windrim, Supervisory Architect of the Treasury Department. Resident architect for the construction of the Court House and Post Office was James R. Lawrence of Port Huron, Michigan. He is locally recognized as architect of the building. Mr. Lawrence was a student of H.H. Richardson Romanesque Revival style which the building exemplifies. The north side of the building was extended in 1907-09. There were minor subsequent additions or alterations in 1923, 1924, 1927, 1929, and 1931. The building was acquired through purchase by the City of Greenville in 1938, thereafter serving as City Hall. Listed in the National Register August 19, 1971. Greenville City Hall has since been demolished. Removed from the National Register May 1973.
View the complete text of the nomination form for this National Register property.
Most National Register properties are privately owned and are not open to the public. The privacy of owners should be respected. Not all properties retain the same integrity as when originally documented and listed in the National Register due to changes and modifications over time.
Images and texts on these pages are intended for research or educational use. Please read our statement on use and reproduction for further information on how to obtain a photocopy or how to cite an item.
Images provided by the
South Carolina Department of Archives and History.