South Carolina Department of Archives and History
National Register Properties in South Carolina

Southern Bleacher and Print Works, Greenville County (113 Mill St., Taylors)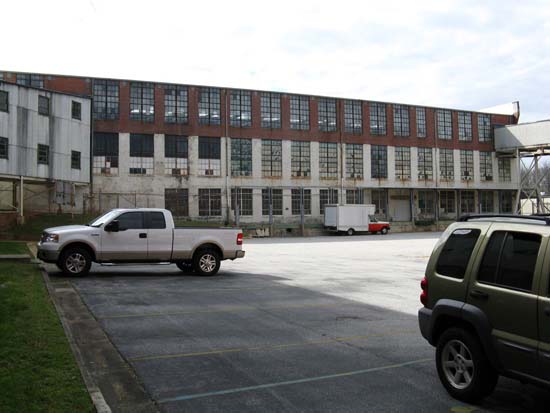 Overview
The Southern Bleachery and Print Works is significant industrially for its association with the development of the textile industry in Greenville County from 1924 to 1952. It is an intact example of cotton mill engineering and design in the first and second quarters of the twentieth century. The Southern Bleachery and Print Works opened in 1924 and the mill ran until 1965, but the last buildings were built in 1952. The mill was designed by the J.E. Sirrine Company of Greenville who designed many mills across the state. The historic property is an intact industrial site consisting of fifteen contributing resources, including the main building, warehouses, a smokestack, detached boiler room with smokestack, a filtration plant, and two ponds. The bleachery took unfinished goods produced by other textile mills and converted them by bleaching, dyeing, and finishing into material used in the manufacture of garments and other end uses. The plant bleached, dyed, mercerized and sanforized cotton. The plant started a new way of life in Taylors. Taylors was a typical village, with houses for mill workers and supervisors, a two-story general store, school house, and two churches, one Baptist and the other Methodist. A shopping center was developed at the entrance to the mill. Shortly after the plant began operation, plans got underway for expansion. In 1928, Southern Bleachery sold acreage to the newly formed Piedmont Print Works. The two businesses shared a common road. In 1932, the two companies merged as the Southern Bleachery and Print Works. Listed in the National Register July 25, 2012.
View the complete text of the nomination form for this National Register property.
Most National Register properties are privately owned and are not open to the public. The privacy of owners should be respected. Not all properties retain the same integrity as when originally documented and listed in the National Register due to changes and modifications over time.
Images and texts on these pages are intended for research or educational use. Please read our statement on use and reproduction for further information on how to obtain a photocopy or how to cite an item.
Images provided by the South Carolina Department of Archives and History.