South Carolina Department of Archives and History
National Register Properties in South Carolina

Nightingale Hall Rice Mill Chimney, Georgetown County (off S.C. Sec. Rd. 52, Georgetown vicinity)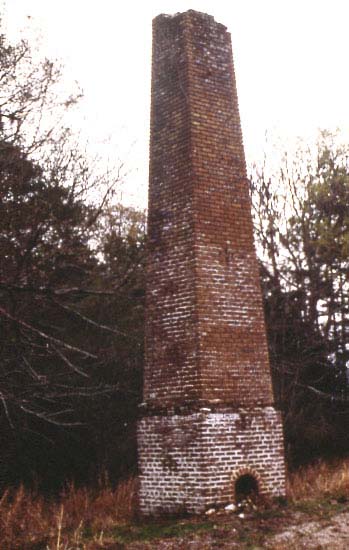 Chimney
(Nightengale Plantation) This rice mill chimney is significant as one of seven known extant rice mill chimneys in Georgetown County and for its association with Nightengale Hall, one of several productive plantations on the Pee Dee River. The chimney is approximately 29' high, and 6' square at the base, which is 5'6" high above ground level. Two brick courses form the corbeling of the base. The chimney tapers to 3' square at the top. The original corbelling and a portion of the bricks at the top are missing. Two arched openings for the firebox, 1'8" high and 1'8" wide, are located opposite each other. Vents of two horizontal and two vertical holes each are located near the top of the base on all four sides. Robert R.W. Allston bought Nightengale Hall from the estate of George A. Moultrie in 1846. He paid approximately $30,000 for 1200 acres and $500 each for some 100 slaves. Listed in the National Register October 3, 1988.
View the complete text of the nomination form for this National Register property. In addition, the Historic Resources of the Georgetown County Rice Culture, ca. 1750-ca. 1910 includes historical background information for this and other related National Register properties.
Most National Register properties are privately owned and are not open to the public. The privacy of owners should be respected. Not all properties retain the same integrity as when originally documented and listed in the National Register due to changes and modifications over time.
Images and texts on these pages are intended for research or educational use. Please read our statement on use and reproduction for further information on how to obtain a photocopy or how to cite an item.
Images provided by the
South Carolina Department of Archives and History.