South Carolina Department of Archives and History
National Register Properties in South Carolina

Clarence McCall House, Darlington County (870 Cashua St., Darlington)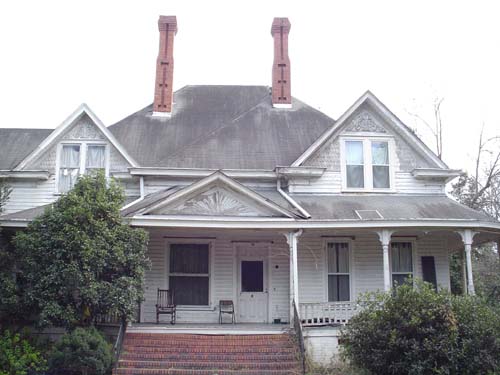 Facade
The Clarence McCall House is significant as an intact example of the Queen Anne style of house in Darlington. Built ca. 1904, the Clarence McCall House is a one and one-half story frame house which has shiplap siding, a high brick foundation, and a high hipped roof with plain boxed cornices. Two gables interrupt the front slope of the roof, and single gables project from the east and west slopes; these four gables each contain a double window with sawn floral decoration above the imbricated shingles on either side. There are two tall interior chimneys with recessed brickwork and corbeled caps on the front slope of the roof. The veranda on the north and west sides of the house is characterized by turned posts, plain curved brackets, turned balusters with a rope motif, and a pedimented gable over the entrance featuring a sunburst motif. The front elevation is asymmetrical; the single front door is flanked by two windows to the right and three to the left. On the property is a small original barn with a gable roof and weatherboard siding. Listed in the National Register February 10, 1988.
View the complete text of the nomination form for this National Register property. In addition, the Historic Resources of the City of Darlington, ca. 1830-ca. 1935 includes historical background information for this and other related National Register properties.
Most National Register properties are privately owned and are not open to the public. The privacy of owners should be respected. Not all properties retain the same integrity as when originally documented and listed in the National Register due to changes and modifications over time.
Images and texts on these pages are intended for research or educational use. Please read our statement on use and reproduction for further information on how to obtain a photocopy or how to cite an item.
Images provided by the
South Carolina Department of Archives and History.