South Carolina Department of Archives and History
National Register Properties in South Carolina

Santee Indian Mound and Fort Watson, Clarendon County (Address Restricted)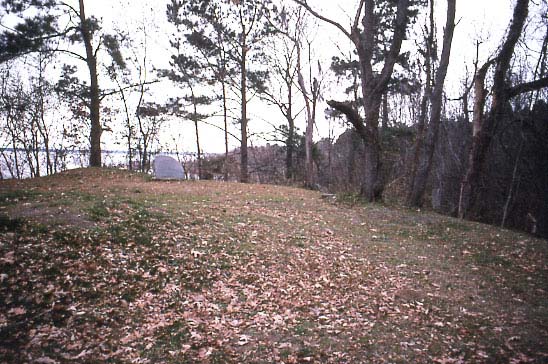 Site
Santee Indian Mound was part of a mound village complex; it was probably a burial and/or temple mound, likely constructed in some cultural period between 1200-1500 AD. Santee Indian Mound and a probable low earthwork remain intact except for the superposition of eighteenth- century fortifications on top of the mound. The fortification, British Revolutionary War post Fort Watson, was built from 30 to 50 feet high atop the mound. In 1780, Francis Marion and Light Horse Harry Lee decided to capture the fort. Bombardment was out of the question, for the Americans were without artillery, but Colonel Maham, one of Marion's officers, proposed building a log tower higher than Fort Watson. Hidden by trees, men hewed logs and the tower was erected in a single night. At dawn a shower of lead poured down into the enemy enclosure, effecting a quick victory. Fort Watson was the first fortified British military outpost in South Carolina recaptured by patriot forces after the British occupation of 1780. There are no remains of Fort Watson on the site. Listed in the National Register July 29, 1969.
View the complete text of the nomination form for this National Register property.
Most National Register properties are privately owned and are not open to the public. The privacy of owners should be respected. Not all properties retain the same integrity as when originally documented and listed in the National Register due to changes and modifications over time.
Images and texts on these pages are intended for research or educational use. Please read our statement on use and reproduction for further information on how to obtain a photocopy or how to cite an item.
Images provided by the
South Carolina Department of Archives and History.