South Carolina Department of Archives and History
National Register Properties in South Carolina

Cherokee Path, Sterling Land Grant, Calhoun County (S.C. Hwy. 6, St. Matthews vicinity)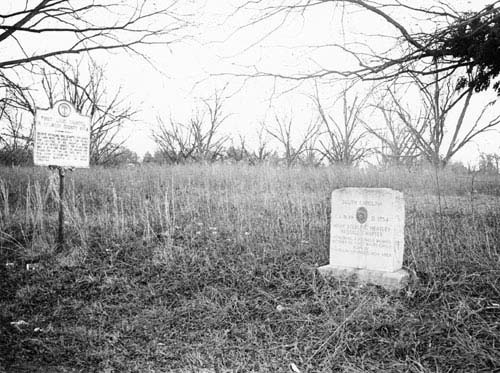 Site with Historic Marker
In 1704, George Sterling received a proprietary land grant for 570 acres of land along Ox Creek (today called Lyon's Creek). It was in an unpopulated section of South Carolina, and Sterling became one of the area's first white settlers in what was to become Orangeburg District and later Calhoun County. Sterling died in 1706, but his daughter Mary Russell and her husband Charles built a plantation along Ox Creek. Unfortunately no records indicate the exact location of the house or its date of destruction. This plantation was often a stopping place for Native Americans and other travelers along the Cherokee Path, an important Native American trading route that crossed Sterling's land. Originally, the Cherokee Path was an Indian footpath leading from Charles Towne to the Cherokee territory in South Carolina, across the Appalachian Mountains, and into the valley of the Little Tennessee River. As white settlers began to develop a more extensive trade with the Indians, the Path developed into a larger trading path. The Cherokee Path crosses the entire state of South Carolina, and many modern highways, most notably I-26, follow the route of the Path. Calhoun County is one of the few counties in the state where portions of the original path remain visible. Two acres, crossed by the Cherokee Path, is the portion of the Sterling land nominated to the Register. The site of the grant itself is a deserted, overgrown field which is dotted with scattered trees. Listed in the National Register May 13, 1976.
View the complete text of the nomination form for this National Register property.
Most National Register properties are privately owned and are not open to the public. The privacy of owners should be respected. Not all properties retain the same integrity as when originally documented and listed in the National Register due to changes and modifications over time.
Images and texts on these pages are intended for research or educational use. Please read our statement on use and reproduction for further information on how to obtain a photocopy or how to cite an item.
Images provided by the
South Carolina Department of Archives and History.