South Carolina Department of Archives and History
National Register Properties in South Carolina

William Robertson House, Berkeley County (S.C. Sec. Rd. 5, Pinopolis)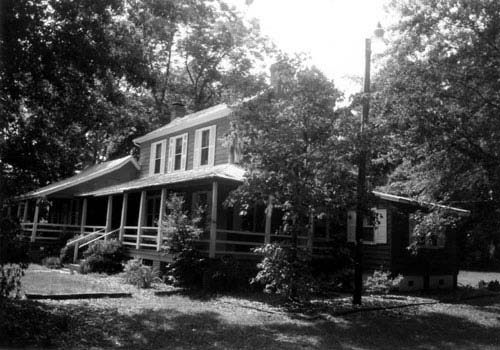 Right Oblique
(Wampee Plantation Summer House) The William Robertson House is a two-story frame house, sheathed in weatherboard, reputedly built ca. 1844. The house was one of the early planters' retreats in the pineland village of Pinopolis. It is three bays wide with a hip roofed, one-story porch spanning the fašade and wrapping around the right elevation. The main roof and the porch roof are covered with standing seam metal. Two exterior brick chimneys with corbeled caps rise at the ends of the building. The nine-over-nine windows support the antebellum dating of the building. It has wing additions on the left and rear elevations. The house is representative of the vernacular central-hall farmhouse or I-House type as adapted to the summer village of Pinopolis. With the decline of the planter classes after the war, many resort villages turned to commercial ventures for their livelihood, however this was not the case in Pinopolis. Preferring to preserve the quiet community atmosphere of their resort village, the residents of Pinopolis blocked several proposals that would have attracted development. This decision helped Pinopolis retain its integrity as a pineland village. Listed in the National Register August 19, 1982.
View the complete text of the nomination form for this National Register property. In addition, the Historic Resources of Pinopolis, ca. 1834-ca. 1920 includes historical background information for this and other related National Register properties.
Most National Register properties are privately owned and are not open to the public. The privacy of owners should be respected. Not all properties retain the same integrity as when originally documented and listed in the National Register due to changes and modifications over time.
Images and texts on these pages are intended for research or educational use. Please read our statement on use and reproduction for further information on how to obtain a photocopy or how to cite an item.
Images provided by the
South Carolina Department of Archives and History.