South Carolina Department of Archives and History
National Register Properties in South Carolina

Robert Simmons House, Beaufort County (U.S. Hwy. 21, St. Helena Island)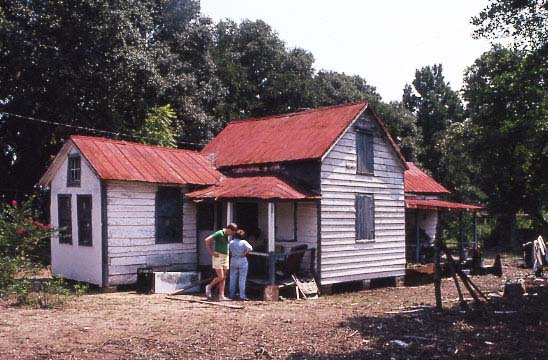 Left Oblique
(Willie Simmons House) The Robert Simmons House is significant as a rare example of a vernacular architectural form once common to St. Helena Island. Although this is an early twentieth century house that has been expanded, the double pen house type has been one of the most prevalent forms in Southern architecture since the Colonial period. This house was built c. 1910 by Robert Simmons, a farmer. Robert Simmons' son Willie, also a farmer, was born in 1898 and has lived in the house since it was built until the time of its nomination. This house has been enlarged in two directions, but the original core is still present and distinguishable. The main fašade has a shed roof porch, supported by wood posts, extending across the fašade. One addition extends from the northeast corner of the main fašade; the other extends from the rear (south fašade). The dates of the additions are unknown. The house rests on metal piers and has a metal roof. Board and batten shutters conceal the window openings. Listed in the National Register October 6, 1988.
View the complete text of the nomination form for this National Register property. In addition, the Historic Resources of St. Helena Island, ca. 1740-ca. 1935 includes historical background information for this and other related National Register properties.
Most National Register properties are privately owned and are not open to the public. The privacy of owners should be respected. Not all properties retain the same integrity as when originally documented and listed in the National Register due to changes and modifications over time.
Images and texts on these pages are intended for research or educational use. Please read our statement on use and reproduction for further information on how to obtain a photocopy or how to cite an item.
Images provided by the
South Carolina Department of Archives and History.