South Carolina Department of Archives and History
National Register Properties in South Carolina

Riverside Plantation Tabby Ruins, Beaufort County (S.C. Sec. Rd. 45, St. Helena Island)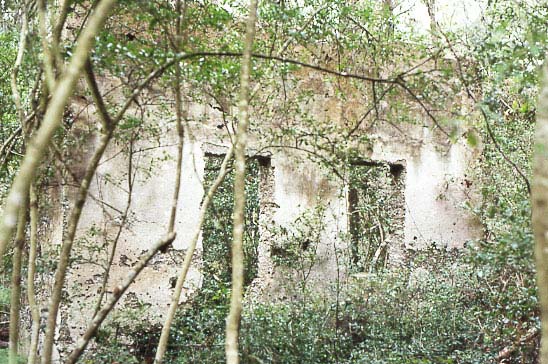 Facade
The Riverside Plantation Tabby Ruins are significant as an example of early- to mid-nineteenth century tabby construction and for their association with Daniel Jenkins, a planter of sea island cotton and other staples on St. Helena. Jenkins was a member of one of the most prominent families on St. Helena Island. He married Isabella Caroline Field in ca. 1805. When he died, his wife acquired Riverside Plantation. Isabella's second husband, Saxby Chaplin, Sr., united Riverside Plantation with Tombee Plantation. Isabella Chaplin was an extremely wealthy woman by 1843 when she married for the fourth time. Through her marriages she acquired five plantations with vast land holdings. The ruins are the remains of an outbuilding associated with the Riverside Plantation, its original use unknown. One wall and small portions of two other walls still remain and retain some plaster. There are two window openings in the intact wall. The ruins also have great archaeological potential. Listed in the National Register October 6, 1988.
View the complete text of the nomination form for this National Register property. In addition, the Historic Resources of St. Helena Island, ca. 1740-ca. 1935 includes historical background information for this and other related National Register properties.
Most National Register properties are privately owned and are not open to the public. The privacy of owners should be respected. Not all properties retain the same integrity as when originally documented and listed in the National Register due to changes and modifications over time.
Images and texts on these pages are intended for research or educational use. Please read our statement on use and reproduction for further information on how to obtain a photocopy or how to cite an item.
Images provided by the
South Carolina Department of Archives and History.