South Carolina Department of Archives and History
National Register Properties in South Carolina

Edgar Fripp Mausoleum, St. Helena Parish Church, Beaufort County (S.C. Sec. Rd. 45, St. Helena Island)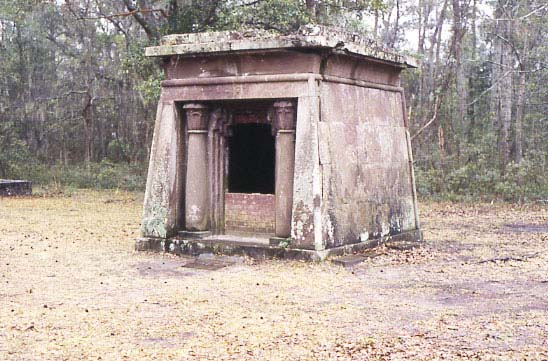 Edgar Fripp Mausoleum
The Edgar Fripp Mausoleum is significant as an example of outstanding mid-nineteenth century gravestone art and architecture, reflecting the social status of the deceased. It is influence by the Egyptian Revival style, popularized in the early nineteenth century. The mausoleum was designed and constructed in 1852 for Edgar Fripp (1806-1860), planter and owner of Seaside Plantation, member of the St. Helena Agricultural Society, the Southern Rights Association of St. Helena Parish, and the St. Helena Episcopal Church. William T. White, a prominent and prolific gravestone artist and stonecutter from Charleston, was commissioned by Fripp to create a grand mausoleum. Fripp intended, both during his life and after his death, to demonstrate his financial success and his social position. The stone mausoleum is approximately seven feet tall, seven feet deep, and six feet wide. The pylon-like fašade features a pair of Egyptian columns in antis. The entrance was bricked up at one point. Listed in the National Register October 6, 1988.
View the complete text of the nomination form for this National Register property. In addition, the Historic Resources of St. Helena Island, ca. 1740-ca. 1935 includes historical background information for this and other related National Register properties.
Most National Register properties are privately owned and are not open to the public. The privacy of owners should be respected. Not all properties retain the same integrity as when originally documented and listed in the National Register due to changes and modifications over time.
Images and texts on these pages are intended for research or educational use. Please read our statement on use and reproduction for further information on how to obtain a photocopy or how to cite an item.
Images provided by the
South Carolina Department of Archives and History.