South Carolina Department of Archives and History
National Register Properties in South Carolina

The Corner Packing Shed, Beaufort County (U.S. Hwy. 21, St. Helena Island)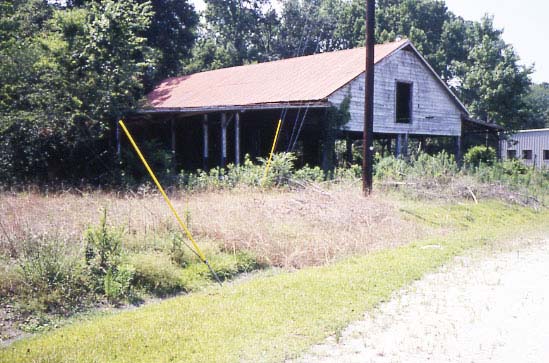 Left Oblique
This building is significant both for its association with truck farming and as an intact and unusual example of early twentieth century vernacular architecture. It was built ca. 1930 as a vegetable packing shed for use by truck farmers. Truck farming became the dominant form of agriculture on the island after the boll weevil doomed sea island cotton as a viable crop. It was greatly aided by the increased accessibility of St. Helena Island after the opening of the bridge from Beaufort to Ladys Island in 1927. This packing shed is located near The Corner, the social and commercial center of the island. It is the only known extant property associated with the early days of truck farming on St. Helena. The building itself is a long, open frame building with a metal gable roof. The roof shelters an enclosed attic storage area. Loading docks, sheltered by shed roofs, extend along each long side of the rectangular building. An enclosed office area is at one end of the building. Listed in the National Register October 6, 1988.
View the complete text of the nomination form for this National Register property. In addition, the Historic Resources of St. Helena Island, ca. 1740-ca. 1935 includes historical background information for this and other related National Register properties.
Most National Register properties are privately owned and are not open to the public. The privacy of owners should be respected. Not all properties retain the same integrity as when originally documented and listed in the National Register due to changes and modifications over time.
Images and texts on these pages are intended for research or educational use. Please read our statement on use and reproduction for further information on how to obtain a photocopy or how to cite an item.
Images provided by the
South Carolina Department of Archives and History.