South Carolina Department of Archives and History
National Register Properties in South Carolina

Emanuel Alston House, Beaufort County (S.C. Sec. Rd. 161, St. Helena Island)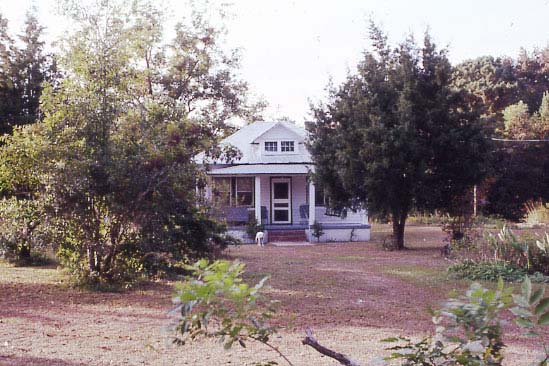 Facade
This house is an intact and significant example of an early twentieth century vernacular architectural form common to St. Helena Island, the one-story, hipped roof house. It was built ca. 1915 by Tecumseh Alston, a carpenter, for his brother Emanuel. The house is a rectangular one-story frame building on a brick foundation, with a hipped, metal roof. A full-width porch, with its own low hipped roof, extends across the primary fašade. Simple wood posts provide the support for the porch roof. Characteristic of this house form is a shed or hipped roof dormer located on the front roof slope, to provide light and ventilation to the attic space. A porch addition has been placed on the rear of this home. Emanuel "Mannie" Alston, born 1900, lived here from 1915 until his death in 1985. He served for many years as an elder at Ebenezer Baptist Church and took a prominent part in the services there. Listed in the National Register October 6, 1988.
View the complete text of the nomination form for this National Register property. In addition, the Historic Resources of St. Helena Island, ca. 1740-ca. 1935 includes historical background information for this and other related National Register properties.
Most National Register properties are privately owned and are not open to the public. The privacy of owners should be respected. Not all properties retain the same integrity as when originally documented and listed in the National Register due to changes and modifications over time.
Images and texts on these pages are intended for research or educational use. Please read our statement on use and reproduction for further information on how to obtain a photocopy or how to cite an item.
Images provided by the
South Carolina Department of Archives and History.